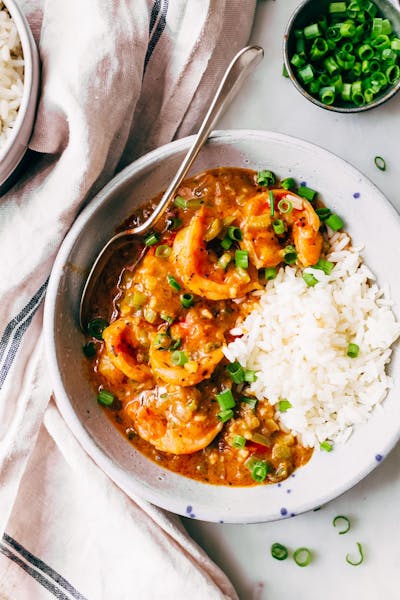 NEW ORLEANS-STYLE SEAFOOD ETOUFFEE with
JASMINE RICE
Etoufee (Literally meaning "smothered") is a popular Cajun and Creole dish popular in New Orleans and Louisiana for over a century. For this simple, yet flavorful stew, you'll be using a combination of bell pepper, onion, and celery sometimes called the "trinity" made extremely popular by celebrity Chef Emeril!
There are many ways to make this classic dish – this version is my particular spin. Classically it is mainly made with Shrimp(s) as Forest Gumps best friend would say, but Bubba told us it can be made many many more ways…..
Prep Time 20 min
Cook Time 15 minutes
Total Time 35 minutes
Servings 9 servings
Calories 427 kcal Per serving not including rice / make it cauliflower rice and you're under 500 kcal!
Ingredients:
4 tablespoons olive oil
1 large red onion, 1-inch dice
1 large red pepper, 1-inch dice
1 large green pepper, 1-inch dice
2 stalks celery, coarsely diced
5 Jersey tomatoes, coarsely diced
1 tablespoon garlic, minced
3 tablespoons shallots, minced
1 pound large crawfish, steamed (can substitute Shrimp or Lobster)
1 pound mussels, cleaned
1/2 pound large shrimp, peeled and deveined
1/4 pound bay scallops
1 pound andouille sausage
2 cups dry white wine
2 tablespoons hot chili sauce, or Cajun seasoning
Kosher salt & Freshly ground Black Pepper
8 Oz Jasmine Rice (we sell in our Sushi Store if you can't locate)
Method:
Before you start this make sure your Jasmine rice is made – this goes super fast!
1. Heat the oil in a dutch oven style pot over medium heat
2. Add the onion, peppers, celery, and tomatoes.
3. Saute until they begin to sweat – 2 to 3 minutes
4. Add the garlic and shallots plus all the seafood and sausage and stir. Cook 3 to 4 minutes.
5. Add the wine and bring to a boil and deglaze.
6. Add the chili sauce, salt, and pepper to taste
7. Stir so everything is well combined
8. Cook for 10/15 minutes and serve family-style